History
Since its formation in 1980, The Dean Pratt Big Band has backed such musical artists as Fran Warren, Zoot Sims, Al Grey and Roy Eldridge. They have also performed a tribute to the great arranger, Fletcher Henderson, funded by a grant from the National Endowment for the Arts. More and more radio stations are once again playing the music of the Swing Era. Co-bandleader, Dean Pratt has waited all his life for this golden opportunity. His 16-piece band features the best musicians New York has to offer. Many are former sidemen of the Harry James, Maynard Ferguson, Woody Herman, Gerry Mulligan and Buddy Rich bands, and are currently featured on Broadway and in the New York studios.
The band plays music from the libraries of Harry James, Count Basie, Buddy Rich, and Woody Herman, but also many pieces of original music written and arranged for the DPBB.
No other big band today captures so authentically the spirit and drive that made the best bands of the Swing Era so compelling, and no band possesses such a remarkably deep and diverse book, comprising charts by such classic Big Band arrangers as Duke Ellington, Fletcher Henderson, Jimmy Mundy, Neal Hefti and Ernie Wilkins to more progressive arrangers such as Bob Brookmeyer, Bill Holman, Thad Jones, Francy Boland, Don Piestrup and Mike Abene—music to dance to, as well as music to listen to, no matter what the occasion.
In addition to being the recipient of a grant from the National Foundation for the Arts, the band was also the first jazz group to be invited to participate in the summer concert series at the Washington Square Park Musical Festival, where they presented, for several years, the history-in-music of many jazz composers and arrangers.
Personnel
Dean Pratt (Leader) began playing trumpet at age six. He studied privately with Daniel Patrylak at the Eastman School of Music, and then attended North Texas State University, performing and recording with the One O'Clock Lab Band, one of the most highly acclaimed college Big Bands in the country, then directed by Leon Breeden. While at Texas, he performed with Tex Beneke and Warren Covington, and toured with the Jimmy Dorsey Orchestra. Dean appeared with his own jazz quintet on the "All American College TV Show," hosted by Dennis James, and with Barry Miles on the PBS Special, "Fusion Suite."
Dean has toured with Woody Herman, performed and recorded with the jazz/rock group Ten Wheel Drive, and helped organize, as well as perform and record with Bill Watrous's band, Manhattan Wildlife Refuge. He has toured internationally with the Bee Gees and, for several years, with Buddy Rich, with whom he appeared on numerous television shows. Among the recordings he appeared on with Rich are: Plays and Plays/No Jive/Battle of the Bands with Woody Herman (RCA); Wham!, The Buddy Rich Big Band "Live"; Class of 78/Big Band Jazz/Best Band I Ever Had (Gryphon/Hindsight); Together Again for the First Time/When I Found You, with Mel Torme (Gryphon/Hindsight); Killing Me Forcefully, Live in Poland (PolJazz); and Europe 77 (Magic); and Buddy Rich Time Out.
Dean has appeared widely with Joanie Sommers, Ben Vereen, Sergio Franchi, Rita Moreno, Bobby Rydell, Vic Damone, Sammy Davis, Jr., Andy Williams, Steve Lawrence and Edy Gorme and Tony Bennett. He has played on Broadway and with the Big Bands of George Russell, Mel Lewis, Toshiko Akyoshi, and Gil Evans; and played lead trumpet with Frank Sinatra, Jr. He has also occupied the lead trumpet chair with Clifford Jordan's Big Band, recording several CD's with them as well as touring Japan and playing at the Montreaux Jazz Festival while touring Europe.
John Wilson, Music Critic for The New York Times, recognized Dean as an "electrifying member of the Woody Herman and Buddy Rich bands."
Bob Porcelli (Lead Alto)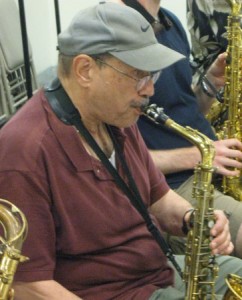 Originally from New Jersey, Vito Chiavuzzo (Second Alto) began playing the saxophone at age nine with the encouragement and support of his musical family. Vito went on to receive a BA in Jazz Studies and Performance from William Paterson University (Summa Cum Laude) and an MA from the Manhattan School of Music. Vito continues to be active in New York, where he has performed in such venues as the Radio City Music Hall, Madison Square Garden, Dizzy's Club Coca-Cola, B.B. King's, the Apollo Theater, Smoke Jazz and Supper Club, The Jazz Standard, Smalls, as well as the Monterey and Rochester Jazz Festivals and festivals in Ireland, Austria, Portugal, and Germany.
Vito has had the good fortune to play with a wide variety of artists including Aretha Franklin, Gladys Knight, Annie Lenox, Lenny Kravitz, the Fins Blues Band, and the Mambo Legends Orchestra (formerly the Tito Puente Orchestra). He has also played alongside many jazz luminaries including Slide Hampton, Donny McCaslin, John Riley, Steve Wilson, James Williams, Maria Schneider, Christian McBride, Michael Mossman, Joe Magnarelli, Jim Rotondi, Dave Stryker, Jon Gordon, Frank Wess, Bob Mintzer, Rufus Reid, James Spaulding, Steve LaSpina, as well as with the Smoke Big Band led by Bill Mobley, the American Jazz Repertory Orchestra led by Clem DeRosa and numerous other Big Bands.
While attending the Henry Mancini Institute, Vito participated in a Grammy-nominated recording featuring clarinet virtuoso Eddie Daniels and saxophonist Tom Scott. Vito has also recorded with hip-hop artist, Redman, gospel artist David Bratton and the Spirit of Praise, singer/songwriter Natalie Riccio, NY's premier hip hop soul band, C Phineas, the Mambo Legends Orchestra, and with Aretha Franklin for an HBO special commemorating the 25th anniversary of the Rock and Rock Hall of Fame. Influenced by a wide range of musicians, from Charlie Parker to James Taylor, Vito is gaining wider recognition as a versatile musician with a strong personal voice.
Danny Walsh (First Tenor) is a New-York-based saxophonist who has recorded with Lenny White, Donald Brown, Joe Locke, and many other musicians around the world.
He has several of his own CDs, including "D's Mood," on the Steeplechase label. Walsh has performed with the Mingus Big Band, the Smoke Big Band and, currently, appears with Terruo Nakamura.
Jason Marshall (Baritone Sax) arrived in New York City in 2003 to continue and foster hard-swinging, forward-thinking baritone saxophone playing.  Encouraged early in life to appreciate all types of music, Jason developed a unique style that draws on a wide gamut of African-American music: an amalgamation of soul, R & B,  Funk, and straight-ahead jazz.  Years of dedication and perseverance have resulted in Jason's giant, soulful sound and instantly appealing concept. He names such stellar influences as Leo Parker, Nick Brignola and Bruce Johnstone, and his approach to the instrument clearly states: "I will take -no-prisoners."
Marshall has studied with many of the elite baritone saxophone specialists of the 20th century, including Hamiett Bluiett, Ronnie Cuber and Gary Smulyan. These three masters of the instrument made invaluable
contributions to Marshall's style and substance, each one offering up his own unique trove of knowledge. Other influences on Marshall were altoists Bruce Williams, Mark Gross, Steve Wilson, Vincent Herring and tenor players Greg Tardy, Wayne Escoffrey and Paul Carr. Mr. Lorenz Wheatley merits special distinction as being Jason's first saxophone teacher and earliest source of musical direction.
Marshall's formative musical experiences include stints with the Thad Wilson Jazz Orchestra and Bluesman Roy Gaines. He is currently playing and touring with Roy Hargrove's band, RH Factor, and the Roy Hargrove Big Band. Marshall's own band, Overt Negritude, has released a debut, self-titled album. (www.JasonMarshallJazz.com)
Bob Millikan showed an aptitude and love of music at a very early age, playing the coronet at age six, and joining the Indianapolis Symphonic Band at age 12. Upon graduation from high school, Bob toured the US with The Warren Covington Band. At summer's end, he moved permanently to New York City, where he studied with Clyde Reseinger, Murray Karpaloski, Carmine Caruso, Harold Lieberman; and arranging with Frank Fields. By age 18, he was working with numerous big bands, doing television shows, studio work, Broadway shows, nightclubs (the Copa, Latin Quarter, and Empire Room) playing lead trumpet for such stellar performers as Peggy Lee, Tony Bennett, Sammy Davis, Jr., Billy Eckstein, Ella Fitzgerald, Nancy Wilson, and Dianna Ross.
Bob was a member of the renowned "American Jazz Orchestra," with John Lewis conducting, performing with many of the jazz greats, and may be heard on The American Jazz Orchestra recordings: Ellington Masterpieces, The Music of Jimmy Lunceford, and Benny Carter/City Sketches.
Millikan has toured Europe, Japan, South America, and Russia, playing the major jazz festivals and recording with: Bob Mintzer (Old School New Lessons, Incredible Journey, Departure, Bob Mintzer Big Band Live At MCG, Homage to Count Basie); David Berger and The Sultans of Swing (Hindustan, Marlowe, Doin' The Do, The Harlem Nutcracker Suite); the legendary drummer Louie Belson (Eastside Suite, Classics in  Jazz, Hot, Air Mail Special, Black, Brown & Beige); and Dave Mathews and The Manhattan Jazz Orchestra (Some Skunk Funk). He has done concerts and TV shows with Quincy Jones in Paris (L'Orchestra National), LA (Los Angeles Philharmonic) and New York, including appearances on "The David Letterman Show." He played lead on "Duke Ellington's Harlem Nutcracker Suite" for the opening of the New Jersey Performing Arts Center and at BAM, and performed with Paquito D'Rivera at the New York Jazz Festival, recreating his part of the Grammy Award winner "Portraits of Cuba."
He may be heard on hundreds of other recordings with such artists as Tony Bennett, Jimmy Heath, Chick Corea, Buddy Rich, Clark Terry, Gerry Mulligan, Mel Torme, DMP Big Band, George Gruntz, Dave Stryker, Grover Washington, Hank Crawford, Gill Evans, Lyle Mays, Barbara Cook, Steve Tyrell, Joe Roccisano, and Tom Chapin. Some recently released recordings featuring Bob include: Knights of Fantasy/Night Cruiser, Deodato; New Horizons, Vol. 2, Stan Kenton; R.S.V.P., Nancy Wilson, Helen Merrill, and Tori Amos. Bob has been doing the "Kennedy Center Honors" annually for ten years, plus numerous other TV specials:  "The Tony Awards," "The Grammy Awards," "The Essence Awards," "The Muppets' Christmas," "Saturday Night Live," and "The Wizard of Oz/Avery Fischer Hall" among them. Bob played lead trumpet on Barbra Streisand's first European tour and was the lead trumpet on her 2006 tour (CD: Streisand Live In Concert 2006).
A tour of the Midwest with the Bob Mintzer Big Band culminated in the live recording, Old School, New Lessons. Bob toured the Midwest a month later with The Dave Liebman Big Band, resulting in the CD, Live as Always.
In a review of Dream, Bill Spilka says, "I must commend Bob Millikan for his stunning chorus on 'Laura.'  After you hear it you realize that his rich, full trumpet tone is the sound of the whole big band that you've been listening to all through the show."
Jeff Wilfore (Second Trumpet) started playing the trumpet in high school. After graduating from Ithaca College in 1991, he went on the road with the Glenn Miller Orchestra, leaving the band to attend the Eastman School of Music, where he earned an MA in Jazz Studies and Contemporary Media. After graduating in 1997, Jeff decided to do some more traveling, this time on a globe-trotting cruise ship as Musical Director. In 2002, and 120 countries later, he moved to New York.
Since 2003, Jeff has been a regular sub on many Broadway shows, including "Hairspray," "A Chorus Line," "Gypsy," "Curtains," "In The Heights," and "The Little Mermaid." After taking his first audition since his college ensemble days, he recently earned a spot in the Radio City Christmas Spectacular orchestra. Jeff has also played on numerous national tours, including "West Side Story," and "Chicago."
Jeff has a certain appreciation for Big Band music. In addition to more than four years on the road with the GMO playing all four trumpet chairs, he has played with the Woody Herman, Artie Shaw, and Gene Krupa orchestras, and still performs regularly with the Harry James Orchestra and both the Jimmy and Tommy Dorsey orchestras. Since moving to NYC, Jeff has been a regular with numerous rehearsal bands, and does many concerts with young composers who write specifically for large jazz ensemble, and who are taking the art form to new levels of creativity.
Jeff is currently a full-time member of the pit orchestra for the Broadway revival of "West Side Story." When not playing on Broadway, he may be found playing in a variety of settings, including jingles, record dates, jazz and Big Band hits, wedding ceremonies, and all types of concerts, from orchestral concerts and operas, to Rock and R&B gigs.
Hardin Butcher (Third Trumpet) was born in a little town on the Tennessee River, but now calls the Hudson Valley home. He holds a doctorate in trumpet from SUNY Stony Brook, in addition to a couple of other higher degrees (which he terms "equally worthless") from schools with the word "State" in their names. To help compensate for the education saturation, Hardin played and toured extensively with the Tommy Dorsey Orchestra, serving as lead trumpet and road manager during his eight-year tenure. He has also played with the Glenn Miller Orchestra and the Nelson Riddle Orchestra, and is currently  lead trumpet with the Artie Shaw Orchestra. In addition to having won a chair in the 2013 Radio City Christmas Spectacular Orchestra, Hardin has also subbed on a number of Broadway shows. In a former life, he was active in the orchestral scene in northeast Ohio, and still goes back there several times a year to play with his funk band. In early 2014, Hardin was sentenced to four months hard
labor for unspecified crimes against music: he served out his sentence playing lead on the Ringling Brothers Barnum & Bailey Red Unit (they let him out early for good behavior).
Alan Quinn (Fourth Trumpet) was younger than five years old when he started playing the piano, and took up the trumpet in high school. Alan formed the Alan Quinn Orchestra when he was 18 as a way to showcase his talents on both instruments. When not working with the band, Alan stays busy as a freelance piano player, trumpet player and church organist.
Alan's solo career includes performances with such noted pop acts as: the Broadway show "Beatlemania"; Disco Divas, Gloria Gaynor and Donna Summer, Dionne Warwick; Burt Bacharach; Motown legends, The Four Tops & The Temptations; the Big Apple Circus (from 2004 to the present); Connie Francis; Lou Christie; The New York Voices; Jake (Raging Bull) LaMotta; The Golden Boys of Bandstand (Frankie Avalon, Fabian & Bobby Rydell); The Coasters; Little Anthony and the Imperials; The Regents; The Happenings; Gene Chandler; The Jimmy Dorsey Big Band; Don Cornell; Marshall Crenshaw . . . and jazz notables such as Dizzy Gillespie, Jon Faddis, Michael Brecker, The Village Vanguard Jazz Orchestra, Jimmy Heath, Bob Brookmeyer and many more.
Alan was also featured at a New York Mets game playing "The Star Spangled Banner" on trumpet.
Born and brought up in the Big Apple, Charley Gordon (Lead Trombone) has toured with Blood, Sweat & Tears, Toshiko Akiyoshi's Jazz Orchestra, and Maria Schneider's Orchestra.
Due to his very busy career on Broadway, Charley has played in a plethora of musical settings ranging from Pop (Stevie Wonder, Joe Jackson, Shakira, Marc Anthony, Jennifer Hudson) to Jazz (, Gil Evans Orchestra, Vanguard Jazz Orchestra, The Mingus Jazz Orchestra, and Andrew Hill 's Big Band).
Charley is, as well, an active member of the Ed Palermo "Zappa" Big Band, Howard William's Big Band, and Dave Chamberlain's Band of Bones.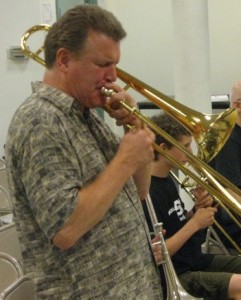 Clint Sharman (Second Trombone), trombonist, began his professional career in Pennsylvania playing with many orchestras and bands in the Harrisburg and Reading areas, and served as principal trombone with the Harrisburg (PA) Symphony for three years.
After moving to New York City, Clint joined the popular group, The Bee Gees, and later joined as soloist with the Buddy Rich Big Band. He has since performed, toured or recorded with Louis Bellson's Big Band, and such stars as Liza Minnelli, Frank Sinatra, Steve Lawrence and Edie Gorme, Sammy Davis, Jr., Charles Aznavour, Michael Jackson, Natalie Cole, the Motown hit machine The Funk Brothers, and many others. His career has extended from New York to Philadelphia and Atlantic City, and he has toured over 30 countries throughout the world.
Clint has also worked on many Broadway shows including "Chess," "Bells Are Ringing," "Miss Saigon," "Fosse," "The Boy From Oz," "Chicago," "The Apple Tree," "Wicked," "Irving Berlin's White Christmas," and many others. Currently, he may be found playing the Broadway musical, "Come Fly Away." He appeared on the 2004 Tony Awards show, "One Night Only," with Hugh Jackman.
As a recording artist, he has played on countless albums, CD's, and radio and TV jingles. (www.Tromboneman.com)
David Chamberlain (Bass Trombone) grew up in Buffalo, NY, and began playing the trombone at age 10; the flute at age 15. He studied at Mannes College in NY (earning a BS in Flute in 1974) and SUNY Purchase (receiving his MA in Trombone 1996.) He has been playing bass trombone in the PBBB for the past four years.
Chamberlain's performance credits include Jaki Byard's Apollo Stompers, the Toasters, Rafael Cortigo, Mon Rivera, Tito Puente, Tambo, Cruz Control, Wayne Gorbea, The Big 3 Palladium Orchestra, the Lebron Brothers, Sammy Davis, Jr., Johnny Mathis, Dionne Warwick, Rita Moreno, Kenny Rogers, and many more. He toured with the national company of "Cats," and has subbed on a dozen Broadway shows.
David leads and has recorded with three groups of his own: the Hora Decima Brass Ensemble, the traditional Afro-Cuban band, Direct Latin Influence, and the Band of Bones. From 2003-2009, he was the Latin band leader at the prestigious Rainbow Room in Rockefeller Center. David plays both tenor and bass trombone, as well as euphonium, tuba, bass trumpet, and flute.(www.HoraDecima.com;www.DirectLatinInfluence.com; www.BandofBones.com)
A native of Long Beach, CA and resident of New York City, pianist, composer and bandleader, Cecilia Coleman (Piano), began to play piano at age five and, at age 15 began to study jazz piano. From 1981 to 1986 she studied jazz piano with well-known vibraphonist and teacher, Charlie Shoemake, as well as undertaking classical studies with Dr. Allan Giles. She is a potent pianist capable of performances that are both exciting and moving, and has developed into an exceptional composer whose distinctive, varied pieces reflect where jazz has been and where it is going.
Coleman has led her own group since 1990, when she formed a trio with bassist Eric Von Essen and drummer Kendall Kay. In 1993, her quintet was formed. Coleman has performed at the Monterey Jazz Festival, the Telluride Jazz Festival and the New Mexico Jazz Workshop with the Quintet. She is currently the jazz piano instructor at her alma mater, CSU Long Beach, where she teaches every other week during the school year. On the east coast, she is the accompanist for the Modern Dance Center of Westchester in Bronxville.
She has eight CD's out as a leader: Pearl, Illusion, Images, The Impostor, Higher Standards, Home, Young & Foolish, and Words of Wisdom. She also appears on three recordings of The American Jazz Institute, headed by Mark Masters, which feature Lee Konitz, Billy Harper, Jack Montrose, Ray Drummond, Tim Hagans and Gary Smulyan, plus many more.
In 2010, the Cecilia Coleman Big Band was formed. In August 2010, the CCBB recorded their first CD (scheduled for release in 2011 on Interplay Records). The band may be heard performing at local NYC venues such as Fat Cat, The Garage and Zinc Bar. (www.ceciliacoleman.com)
Born in Peoria, Illinois, Jerry DeVore (Bass) started performing professionally on drum set and percussion, while still in high school. Then quickly, his focus turned to the electric and upright basses, as his career metamorphosed to playing the bass full-time.
Just before graduating with honors from Bradly University, Jerry won an audition with the United States Air Force Band, and toured the nation for over four years performing with the Jazz Big Band and Concert Band of the USAF Heartland of America Band. After teaching full-time as a college instructor at Iowa Western, he moved to New York City. Having come to New York in pursuit of a Master's Degree in Jazz Performance, Jerry immediately began performing at such venues as the Blue Note, Dizzy's Club, and the 55 Bar, to name just a few. Since arriving, Jerry has been active in performing and composing, in addition to teaching, engineering, and producing.
DeVore has a wide range of abilities. He has served as a full-time member of three classical symphonic orchestras, and has studied with Chicago Symphony Orchestra Bassist, Stephen Lester, and Juilliard doctoral graduate, Dr. Mark Morton.He has also studied privately with several accomplished jazz musicians: bassist Mike Richmond, pianist Kenny Werner, pianist Jean-Michel Pilc, and drummer Billy Drummond.
Throughout his career, Jerry has performed and recorded with several notable artists: Curtis Fuller, Wynton Marsalis, Kenny Werner, Tony Moreno, Bruce Arnold, Gladys Knight, and Lenny Pickett (to name a few).
Roberta Gambarini (Vocals) was born in Torino, Italy, into a family where jazz was much loved and appreciated. She began listening to this music as a child and started taking clarinet lessons when she was twelve. By the time she was 17, she had begun singing and performing in jazz clubs around northern Italy and, at the age of 18, she decided to move to Milan to pursue a career as a jazz singer.
Soon after her move, Roberta took third place in a national jazz radio competition on TV, leading to performance opportunities at jazz festivals throughout Italy. She performed on jazz broadcasts on Italian radio and TV channels and, in 1986, began recording both under her own name and as a guest. In 1997, she worked with French Hammond organ player Emmanuel Bex, touring jazz clubs throughout Italy. In 1998, she moved to the United States, having received a scholarship from the New England Conservatory in Boston. Two weeks later, Roberta stunned many in the jazz world with a third-place finish in the Thelonious Monk International Jazz Vocal Competition.
In 2004, Roberta recorded "16 Men & A Chick Singer Swingin': Pratt Brothers Big Band Featuring Roberta Gambarini," on the CAP Label in New York City. Her first US release includes four tracks with the band: "Skylark," "Cup of Life," "Fair Weather," and "East of the Sun." Says Dean Pratt: "I first heard Roberta back in 1998, when she was a finalist in the Monk competition. I knew, from the first moment I heard her, that this was the voice of the new millennium."
A dynamic performer with virtuosic vocal chops, she draws rave reviews and enthusiastic fan support wherever she performs. And, until her solo North American debut, "Easy to Love" (Groovin' High/Kindred Rhythm), was released in June of 2006, she did so by word of mouth alone. On "Easy to Love," Roberta shows off her instrumental approach and warm timbre, impeccable timing and intonation, incredible technique and scatting and improvisation skills on a set of twelve jazz standards and classic tunes from The Great American Songbook. The album also includes two bonus tracks and features special guest James Moody on a scintillating scat duel.
"Easy to Love" was nominated for a GRAMMY® in 2007 in the Best Jazz Vocal Album category (along with albums by Karrin Allyson, Nancy King, Diana Krall, and Nancy Wilson). Roberta's "formidable talent" (DownBeat Magazine) has also garnered her wins as the 2007 Female Jazz Singer of the Year from the Jazz Journalists Association (JJA) and as the 2007 Talent Deserving Wider Recognition from DownBeat Magazine's Annual Critics Poll.
In February of 2008, Roberta made her major label debut with "You Are There" (Groovin' High/Emarcy), a collection of 14 hauntingly beautiful melodies, recorded with the legendary pianist, Hank Jones. The music was recorded in one afternoon; Roberta and Hank had no concept for the album–just 25 tunes they liked and thought would be interesting to record. "There were no isolation booths, no headphones, no over-dubs," Gambarini remembers. "The sound would be just what you would hear had you been in someone's living room playing among friends."
Roberta Gambarini has performed with Michael Brecker, Ron Carter, Herbie Hancock, Slide Hampton, Roy Hargrove, Jimmy Heath, James Moody, Hank Jones, Christian McBride, and Toots Thielemans, among many others, and has performed at Carnegie Hall, The Kennedy Center, Lincoln Center, New York City's Town Hall and The Walt Disney Concert Hall, as well as at jazz festivals around the world.
Roberta was voted Rising Star Female Vocalist of the Year in the 2008 DownBeat Critics Poll toured internationally with her band in support of her newest album, "So In Love," released in the summer of 2009.