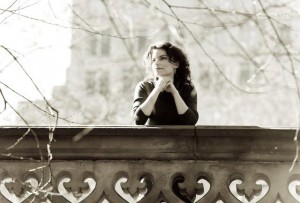 Ask Roberta Gambarini who she is, and what she is, and she'll simply answer, "I am a singer." Born in the northwestern Italian city of Torino, Roberta Gambarini started singing in local jazz clubs as a teenager before moving to Milan, where she worked in radio and television and began recording under her own name in 1986. In 1998, two weeks after arriving in the United States with a scholarship from the New England Conservatory of Music, she stunned many in the jazz world with a third place finish in the Thelonious Monk International Jazz Vocal Competition.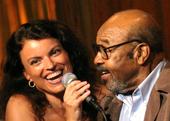 A dynamic performer with virtuosic vocal chops, stunning musicality, and unwavering intonation, she draws rave reviews and enthusiastic fan support wherever she performs. And, until her North American solo debut CD, Easy to Love (Groovin' High/Kindred Rhythm), was released on June 6, 2006, she had done so through word of mouth alone. (Her very first North American release was 16 Men & A Chick Singer Swingin': Pratt Brothers Big Band Featuring Roberta Gambarini, issued under the CAP label in 2004.)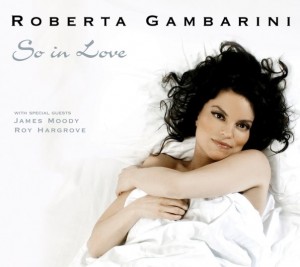 Easy to Love was nominated for a Grammy in 2007 in the Best Jazz Vocal Album category (along with albums by Diana Krall, Nancy Wilson, Karrin Allyson and Nancy King). Roberta's "formidable talent" (DownBeat Magazine) has also garnered her wins as the 2007 Female Jazz Singer of the Year from the Jazz Journalists Association (JJA); the 2007 Talent Deserving Wider Recognition; and the 2008 Rising Star Female Vocalist of the Year, both from DownBeat Magazine's Annual Critics Poll.
On February 12, 2008, Roberta made her major label debut with You Are There (Groovin' High/Emarcy), a collection of 14 hauntingly beautiful melodies, with the legendary pianist, Hank Jones. The music was recorded in one afternoon; Roberta and Hank had no concept for the album, just 25 tunes they liked and thought would be interesting to record. "There were no isolation booths, no headphones, no over-dubs," Gambarini remembers, "just a microphone and a stool alongside the piano. The sound would be just what you would hear had you been in someone's living room playing among friends." That is the magic of Hank Jones, who accompanied most of the celebrated vocalists of the 20th Century, and declared Ms. Gambarini "the best singer to emerge in over 60 years."
The Boston Globe named Roberta as the "true successor to Ella Fitzgerald, Sarah Vaughan, and Carmen McRae." Roberta's latest album, So In Love, out in August of 2009, is a stunning affirmation of her status as one of the most important vocal artists performing today.
Roberta honed her craft and built her reputation and relationships on the road—like all true great musicians—touring and performing with Ron Carter, Herbie Hancock, Slide Hampton, Roy Hargrove, Jimmy Heath, Hank Jones, Christian McBride, James Moody, Mark O'Connor and Toots Thielemans, among many others, as well as leading her own groups.
Some of the artists who play on So In Love are Roberta's childhood idols, such as legendary saxophonist James Moody, whom her jazz-loving parents took her to see at a concert in her home town of Torino at age nine. "I owe most of what I do now," she says, "to my parents' love and understanding of music and to Moody's example, encouragement, and tutoring."
As of this writing, Gambarini has been nominated for three Grammy awards.